WHAT DO WE UNDERSTAND BY PLASTIC POLLUTION?
At present, climate change has been used as a mixed bag to talk about a multitude of problems, from the increase in the earth's temperature caused by Carbon Dioxide to deforestation or the extinction of animals and species.
However, when we talk about plastic pollution, we focus on a present problem, which can be seen with the naked eye and which continues to worsen.
Plastic pollution is it is not more nor less that the excessive presence of plastic in nature that can be harmful to wildlife and the environment. 
It is a problem that is hitting Africa in a particular way and that, if it continues, will soon spread to our coasts and various corners of the world.
Photographs taken by Mondo4Africa at Nungua Beach, Ghana. Kms of plastic to the horizon.
the plastic contamination in africa
Africa is well known for its sunsets, natural landscapes and animal life. However, not far from these idyllic nature scenes, we find cities that are densely populated and not so popular with tourists.
Waste generation in Africa has grown significantly in recent decades. This increase is mainly explained by the rapid growth of the urban population and new consumption habits in cities.
The increase in waste generation, however, has not been accompanied by an improvement in collection, storage and disposal systems. The inefficiency of the management system is due to various factors such as the absence of an effective framework, the concurrence of different agents with low skills and the lack of citizen commitment to keep the streets clean. The population has never assumed the problem as its own, attributing responsibility to the government.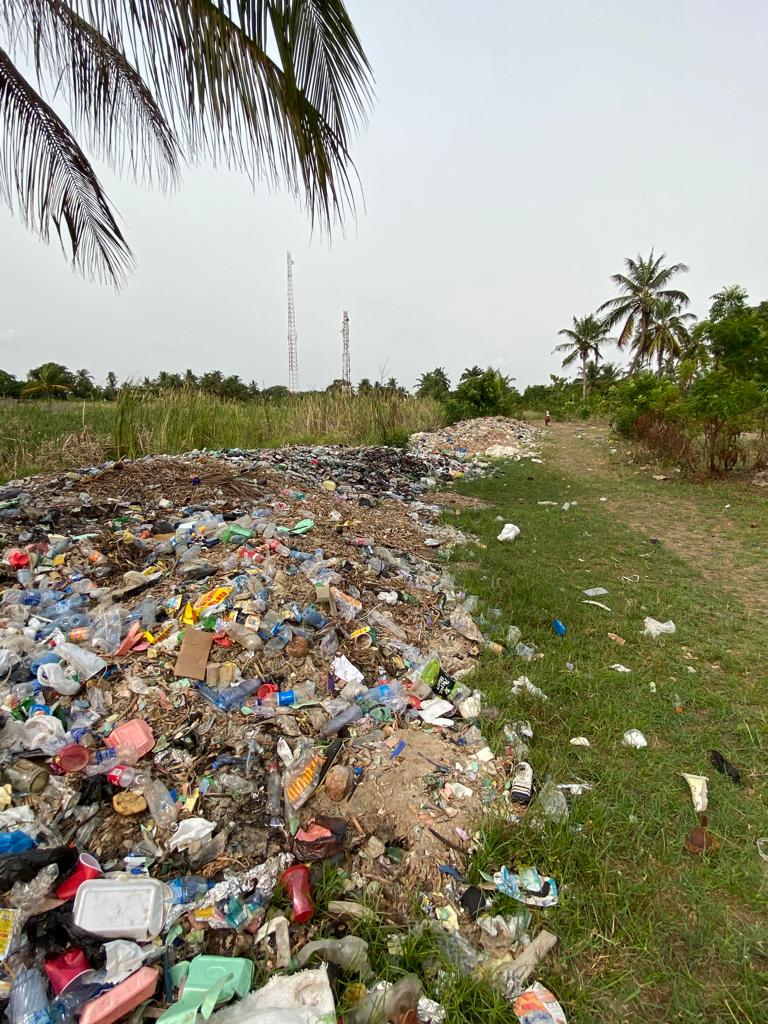 Most of the towns, peripheral cities, rivers and coasts are increasingly becoming highly polluted environments with plastic and other types of waste.
Most governments allocate large portions of their budgets to waste management, but they are still not enough to meet the financing needs of government agents, make the necessary payments to private operators involved in the sector or face new investments in technology, infrastructure and equipment.
Not only are the political incapacity the origin of the problem. There is a great cultural and social desensitization to coexist with waste. In the end, we find ourselves in extremely poor social environments and without proper access to education, creating common attitudes such as throwing garbage in the street, the sea or the beach.
Photos taken by Mondo4Africa in Makoko. Plastic buildup in your gutters
1. Plastic pollution harms human health, contributes to the loss of livelihoods, biodiversity and terrestrial and marine ecosystems in Africa.
2. The production and consumption of plastic is expected
it will increase globally and in Africa in the coming decades, spreading the problem globally.
3. There is an urgent need to address policies designed to combat plastic pollution using circular economy principles, research and development in technologies, education and awareness on climate change and pollution.
4. At the regional level, African governments should develop policies aimed at the correct disposal of waste, together with awareness strategies for their population, which has to change important social attitudes in the way they behave with their waste.
5. At a global level, we must all collaborate in creating visibility for plastic pollution, in order to focus concrete actions on this problem that will be less and less alien to us, and that little by little we will find ourselves on our nearby beaches.
A global problem needs a global response
Mondo4Africa is not advocating that plastics not be produced or used. The advance provided by this elastic, insulating and, above all, cheap material constitutes a milestone in our development and is necessary for the survival of millions of people.
But, in the same way, there has been a moment when its unconscious use has gotten out of hand and we have reached a point of no return.
The problem is not on paper. Thirty-four African countries have passed regulations banning the production of these wrappers, but the law is frequently flouted. The environmental alarm has encouraged creativity. UNICEF has promoted in Cameroon and Benin brick factories made with plastic waste that are 40% cheaper than those generated with clay and are resistant to fire, and initiatives are also multiplying to provide mattresses, beds and other furniture from waste . Recycling is one of the biggest challenges to combat this incessant flow. Nigeria, the richest state on the continent, has committed to building 26 plants to treat plastic, but most sub-Saharan states, among the poorest on the planet, lack the resources to provide themselves with these infrastructures.
Given this situation, it is important to unite when it comes to solving this problem. As we say at Mondo4Africa: "small actions, done collectively, have the power to change the world".
Your small contributions, volunteering or other collaborations have achieved different milestones in Mondo4Africa, highlighting:
Putting together more than 30 cleanup and awareness events in Ghana and Nigeria

The placement of fish-shaped bins on the beaches of Ghana, so that bathers can place their plastics.

The financing of a recycling center in Nigeria, with hundreds of tons disposed of and employing more than 100 people.

The creation of collection points in Nigeria and Ghana, where plastic is exchanged for cash, with the aim of creating awareness that plastic has value, and therefore there is nothing for it to be wasted.
Do not miss our projects tab to find out what we have done and what we are doing now.
In order to continue militating our cause, we encourage you to become members of our association, being first-hand participants in our progress and beneficiaries of our products. For more information: